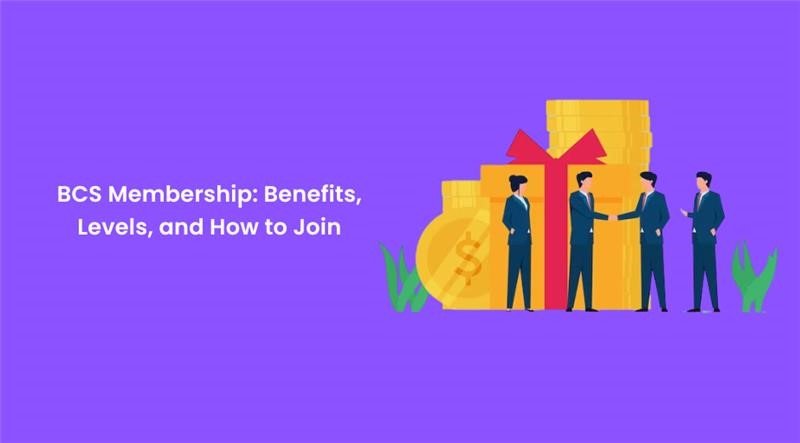 The British Computer Society (BCS) is a well-known international organisation for IT specialists and hobbyists. Since its founding in 1957, the BCS has been at the forefront of improving computer science and encouraging excellence in IT-related fields. Professionals and students in the technology sector greatly value BCS membership because of its emphasis on cultivating knowledge, research, and networking opportunities. In this blog, we will discuss the many benefits of joining BCS, the different levels of membership that are available, and provide information on how to become a member of this esteemed organisation. We will also emphasise the value of BCS Certification in improving IT workers' employment prospects.
Table of content
BCS Membership Benefits
BCS Membership Levels
How to Join BCS
The Significance of BCS Certification
Conclusion
BCS Membership Benefits
BCS membership has many benefits, making it a crucial investment for anyone in the technology industry. A huge network of like-minded individuals is available to members, giving them access to mentors, experts in their fields, and possible employment. This networking opportunity is priceless when looking for new career prospects, partnerships, or guidance on navigating the ever-changing digital market.
Second, BCS gives members special access to cutting-edge studies, industry papers, and publications to keep them informed of the most recent advancements in their industries. This access to information and insights promotes lifelong learning and progress while contributing substantially to professional development.
Additionally, conferences, seminars, workshops, and other professional development initiatives are discounted for BCS members. These occasions provide worthwhile training opportunities and certificates that might enhance a person's skill set and job chances.
BCS Membership Levels
BCS provides many membership levels to meet the varied requirements and qualifications of technology professionals and hobbyists. The following are the basic membership levels:
Designed for those pursuing a degree or pertinent certification in computer or IT-related subjects. Student members get access to helpful tools and advice for advancing their academic and professional lives.
Ideal for those with an interest in technology but who are not yet eligible for professional membership. Affiliate members can use BCS resources to their advantage while they pursue their professional certifications.
This is intended for individuals with vast knowledge and experience in technology. Professional members may use numerous tools, networking opportunities, and expert recognition.
Reserved for remarkable people who have made noteworthy contributions to the IT and computer fields. Within BCS, fellow members receive the highest recognition and play a crucial role in determining the industry's destiny.
How to Join BCS
The procedure for joining the British Computer Society is simple. Based on their credentials and expertise, interested parties can visit the BCS website and select the appropriate membership level. The website offers comprehensive details on each membership tier's requirements and required paperwork.
Typically, applicants must complete an online form with information about their educational history, employment history, and career accomplishments. Following submission of the application, BCS will examine the data supplied, and following satisfactory verification, candidates will be given their relevant membership.
The Significance of BCS Certification
Besides membership perks, BCS Certification is highly respected in the IT sector. A person's abilities and expertise in particular technological fields can be verified by earning one of the several professional certificates that BCS provides. These credentials are respected worldwide and can increase a person's employability, earning potential, and reputation in the labour market.
Conclusion
The British Computer Society membership provides the door to technological options. The BCS offers a variety of tools and networking opportunities to students, professionals, and technology enthusiasts alike, thanks to its several membership levels. Additionally, earning a BCS Certification might improve one's professional chances and provide them with an advantage in a continually changing sector. Anyone who wants to succeed in computers and IT would be prudent to join the BCS.